THIS is ME and CHARLOTTE!!!  Charlotte and I met in Preschool at The Y… the YMYWHA-JCC Early Childhood center of Bergen County, to be exact.
We were 3 when we met, but our friendship blossomed when we turned 4 a month later. A Fun-Four-Fact: Charlotte is just four days older than me. (Happy birthday, girl!)
We had a blast together — we became fast BFFs as we navigated the sand box, noodle art, and icky boys together. We sat next to each other, buddy'd up at every chance we got, and had play dates galore! Her mom made grilled cheeses with MnM smiley faces, and Charlotte had a Big Bed. Charlotte was the coolest person I knew, and I was so proud to call her my best friend.
The next year, Charlotte did the advanced path thing went off to Kindergarden, while I stuck it out for a third year of Preschool at the Y. We loved each other still, but this big separation in grades — and also being in different towns and school districts — took a toll on us, and caused a bit of a drift. Our moms remained close, talking on the phone every day, but Jem and I found our own path for a little while there.
Fast forward to when I was in Fourth Grade and Charlotte was in Fifth Grade… and talking on the phone was all the rage. These two Preschool BFFs reunited with juicy joy, yapping away for hours a day about boys, friend groups, and whatever else fourth and fifth graders talk about. Charlotte was so cool with her own phone line, and I didn't get one for a few more years, but that didn't stop our unstoppable love for one another…. nor the schemes. Oh the schemes!
We started causing trouble together as hobby!
We would order pizza to random people in school that we didn't like, and we thought this was very sly. Once we took our pizza ordering to new heights… and we ordered one to MY HOUSE without asking my mom! We pooled our piggy banks to pay for it, and waited for the door bell to ring, ready for our sneaky delivery to shock my mother.. and the greater shock when we would pull out our own coin stash to pay for it!
But we were ALL shocked when my mom, peering over at the giggly girls in the corner, opened the door… to a CLOWN. A full-on painted-faced, red-nosed, costumed clown had delivered our pizza. And this is pretty much how things went for me and Charlotte.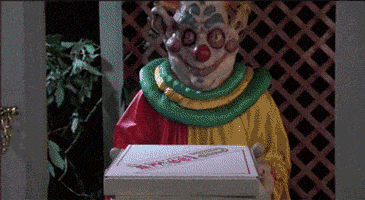 Other antics around this age included putting my sister through the scariest time of her life: When the Hairy Scary Monster was out to get her, Jessica, specifically.
Charlotte and I spent our time writing Scary Notes from the HSM in squiggly handwriting that we'd leave on my sister's pillow, in the sink, nestled in her shoes, tucked into drawers… or even in the very hands of her stuffed animals.
We even once printed a newspaper article on grey paper about the Hairy Scary Monster's latest attack.
But listen. We weren't purely evil! One thing Charlotte and I both loved more than maybe anything else were little kids. Babies. Toddlers. Cutie little humans. Charlotte had become a prestigious "Mother's Helper," assisting busy moms with their kids, and I was always envious of her ability to score these gigs with such ease. She was always the mature one. Which could probably be said about a lot of my friends, still, to this day, but that's beside the point. We were both GREAT with kids, but Jem really knew what she was doing.
One day, we decided that it was time to take our great love for kids to the realm of profit. We decided to start a program at the Y that would be a place for moms and dads to drop of their kids for a few hours to play.
After much consideration, we decided to call it "FUN for FOURS and FIVES!" We decided that younger than 4 was too much of a liability, and above 5 was a little too old for our taste. So 4s and 5s it was – the ::magic:: age. We planned a curriculum, we bought arts n crafts supplies, and we made lots of signs to promote our new business venture around the Y!
And it worked. We settled into our play space of choice — a room that was often used for Mommy n Me – and people started bringing us their kids! It was awesome. We played dress up. We made cotton ball sheep friends.
We sang songs. We must have had six or seven four or five year olds with us that first day, quite the turnout! Until someone entered the room… without a kid. Somebody from the Y.
See, the small detail we completely overlooked was whether or not this was all okay with the Y. It didn't even occur to us that we might need permission! (Some things never change.)
Some Y staff members stayed with us until all the parents came back to collect their children, at which point they were informed that this was an unsanctioned gathering, and please don't listen to signs that don't have the official Y logo on them.
Charlotte and I were disappointed, but laughed the whole way home. We did it!!! And we even made some money! I'm not sure how much, but it was maybe 4 or 5 dollars each. In the weeks after we tried to fight the system and make our class official, but apparently we were too young to do something like this. FUN for FOURS and FIVES was a one-hit-wonder after all, but it was a wonder indeed.
:::::::::::::::::::::::::::::::::::::::::::::::::::::::::::::::::::::
WHERE ARE THEY NOW????
Charlotte is now the mother of a beautiful baby girl, who just had her first day of Preschool.
Michelle has no kids (yet!), but teaches Preschool to adults.
The women live separate lives, but keep up with each other's antics on Facebook and through their moms… who are still BFFs, and still talk on the phone every day.
*Names have been changed to protect the identity of innocent childhood friends