Skip-Day UPDATE :: 100% OF DAYSKIPPERS AND DONATIONS FOR TODAY'S SKIP WILL GO TOWARDS THE MDS FOUNDATION FOR #TONYPELLE! Taking donations at the skip too.
You know those moments when you get clear on something after realizing you've been avoiding a certain reality because you're afraid of it? Well, just became so clear to me: All donations we receive for today's skip will go towards the MDS Foundation for #TONYPELLE. Skipping Club's beloved Musical Director Janna Pelle won't be there today – her dad Tony Pelle was recently diagnosed with MDS, a rare blood disease. Janna is now in Miami – she flew down to take care of him as the disease has progressed. He needs our superpowers!
Listen to the album Janna wrote for her dad here:
We'll end our skip with a skipping meditation – just before we get to Ali Baba's – to Kick It In, the original song Janna wrote for her dad,, and we'll be channeling our superpowers to #TONYPELLE to send him strength, immunity, vitality and renewed health!
No matter where you are, be a superhero and skip today on your own.
DONATE HERE —> www.michellejoni.com/superheroskip this skip is for #TONYPELLE
Also, since Janna won't be there physically today with her musical ::magic:: – please join in and add your favorite superhero songs to the Spotify Playlist!
_____
SUPERHEROES, UNITE! Yes YOU! And by you and I mean US.
This week's skip will start across the street from Grand Central Station by Pershing Square on 42nd Street and Park, where we'll begin our skip through Midtown East. To music, we'll skip by the UN for a street-side powwow on how to save the world, through sacred gardens and spaces, ending at a beautiful rooftop palace, also know as Ali Baba's Terrace. Hummus and light turkish nosh will be included. Get a workout, build community, share ideas, get into action… it's time to save the world.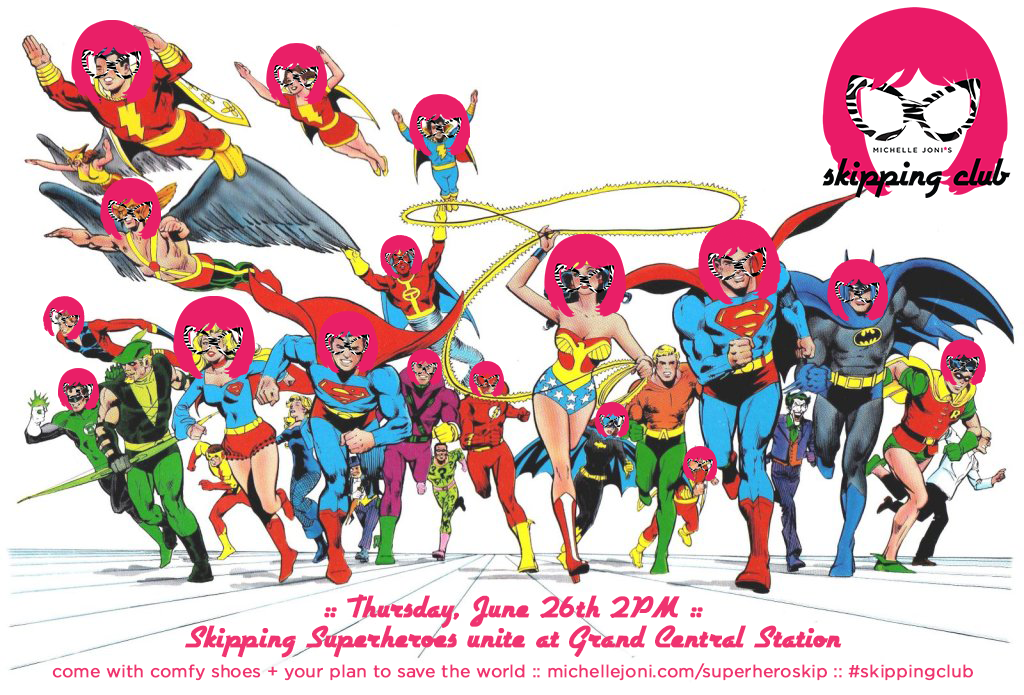 WE THE PEOPLE of this cosmic shift in consciousness, with unbounded freedom of creation, upwardly mobile with unbridled access to technology — it's up to us. It's time to tap in. We have the power to save the world — so long as we are living our truth and being Action Figures about our ideas.
It only takes one idea in action. Like… Skipping. I believe that the simple action of skipping beholds a forcefield of joy that can be injected into the world. But to get to this joy, you must first push past any discomfort about it – the embarrassment, the innocence, the awkwardness, whatever fears come up – and skip your heart out. The more you can let go, the more poweful you become as a magnet for joy, and the more positivity and freedom of self you inject into the world. Skipping is contagious — by giving yourself permission to skip, you embody confidence and that gives others the permission to do the same. Confidence, freedom… these are all needed if we're going to save the world.
What is YOUR SUPERPOWER? What one idea would you like to share and get support in? Come with your succinct and simple plan to save the world, dress the part (capes and wands optional!) and we'll skip to in support of your mission.
A sampling of Action Figures who will be in attendance: 
Jordan Phoenix, an always-in-Action Figure, is celebrating the launch of his book: It's All My Fault. How I messed up the world, and why I need your help to fix it. Jordan has interviewed nonprofits around the world to see what works and what doesn't, and he shares that and much more in his book. He'll be traversing the continent by foot to promote his book, and in the luckiest towns, he'll skip.
Sally the Supermarket Fairy is a real life Action Figure, complete with wings and her signature power color turquoise, creating health and wellbeing through teaching healthy eating choices.
Luke Harms creates miniature Action Figures for a living, and is studying to save mouths as a dentist. Want a custom Action Figure designed for you to inspire your world-changing journey? Talk to Luke.
Many more TBA – including you, hopefully! Join the skip – this one's got superpowers. #skippingclub
It's also the week of Brick's Comic Book Theater Festival – check out our alibi!